Autopathy Seminar in Munich on Saturday, the 28th October 2017
Like homeopathy, autopathy uses information from nature. This information is potentiated and used for a holistic revitalization of the body and mind. It does not originate in the natural environment, animals or plants as in homeopathy, but is taken from the body systems of the healed person, from saliva, breath, or directly from the 7th chakra. The first person using this principle in Europe was the founder of homeopathy Samuel Hahnemann. However, the autopathic procedure was used already in ancient India and other Buddhist countries. The Prague homeopath, Jiri Cehovsky, developed this principle into a method for healing chronically ill persons. He and his pupils achieve with this method major successes, also in cases, when other (conventional or alternative) methods had failed. Eczemas, allergies, back and joint pains, insomnia, fatigue syndromes, depressions, and many other diseases of the modern time are the consequence of disharmony in the flow of vital force, prana. The autopathic self-healing, which harmonises these fine-matter energies, can offer real help and remove even long-term complaints. J. Cehovsky (*1947) teaches autopathy in his Homeopathic Academy in Prague (Pražská Homeopatická Akademie), as well as in specialized courses on autopathy. For the production of the autopathic dilution he developed a glass vessel – the autopathy bottle.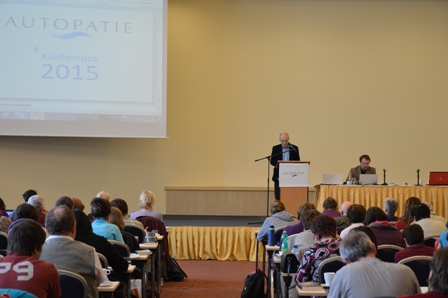 He wrote two books about the method: Autopathy, a Homeopathic Journey to Harmony and Get Well with Autopathy. The second book serves as a manual for self-healing as well as for professional consultancy. The books were published also in Great Britain and the USA, where they received a positive echo in homeopathic journals. His articles about the method were published in specialist journals such as Homeopathic Links and Hpathy.com. Autopathy has been applied since 15 years, certified autopathy consultants work not only in the Czech Republic, but also in Germany, Austria, Switzerland, Great Britain, Ireland and the USA. The users of autopathy exchange their experiences with this new method for restoring health at annual conferences, which in 2017 took place already for the 9th time.
Seminar on Autopathy in Munich
In this one day Seminar on Autopathy in Munich, Jiri Cehovsky provides detailed introduction to autopathy, which was developed from classical homeopathy. The goal of the seminar is the mediation of basic knowledge about therapy in the professional praxis, as well as in self-healing.
Content of the seminar:
History and background of autopathy
Getting to know and discussing all methods within autopathy
How to lead a consultation with the client
How to accompany a patient through the autopathic process
How to ascertain the right potency and method of autopathy
There will be a possibility to purchase the autopathic bottles needed for the therapy and the book about the method Get Well with Autopathy by Jiri Cehovsky at the seminar.
Venue: OBA, Blutenburgstr. 71 (corner of Landshuter Allee – Mittlerer Ring), 2nd floor, 80636 Munich
U1 U-Bahn Haltestelle Rotkreuzplatz (goes directly from Hauptbahnhof München)
Time: Saturday, the 28th of October, 9-17.30 o'clock
Seminar language: English with translation to German
Fee: Early registration until 24th September 2017 95,- Euro, after that 120,- Euro. Please klick for your registration here.
Please note that the attendance in this seminar does not replace diagnosis or treatment conducted by a medical doctor or a certified healer (Heilpraktiker).